including Woolwich & Districts
We Need your Help!
... with family names and enquiries?
Can any one shed more light on any of the families or relatives?
If so, email me.
---
The Card Family
My great great great grandfather born in Hartfield, then married in Scotland where he was in the Arsenal, and had, I think, seven children. He then moved back to Plumstead and had their last child born in 1898.

Great great great grandfather then was in the Arsenal at Woolwich for many many years. All of his children growing up in this area and having their own family and many of them working in the Arsenal.

I guess I should start with names, some still living in Plumstead today. But they are elusive and hard to track down. I am also after the basic history on Plumstead to include into my family tree records.

Great great great grandfather, John Card, married Eliza Janet Sims, on 16 Dec. 1882, at The Manse, North Leith, Scotland.

Children:
John
Anne
Jessica
Henry
Margaret
Charlotte
Frances, my great grandmother.
Charles born Plumstead 1898.


Family stories have it that my great grandmother, either had a quick fling or was raped by a Sgt. from the Arsenal which resulted in her giving birth to a son in 1906. To have this child, Charles Herbert Card, she was sent to a home for unwed mothers in Hackney, where she gave birth. Upon returning back to Plumstead, her parents, John and Eliza, raised Charles as their son. Frances was only 16 at the time of giving birth. To this day no one has really been told who his father was. Charles grew up thinking that John and Eliza where his parents. Because they already had a son by the name of Charles, Charles Herbert was nick named Bertie.

The Card family lived then at what was known as 84 Kirkham Street, and later, when Frances married in 1918 to a Alfred Perryman. It is stated on her marriage cert. her address as living at 63 Francis Street. Also showing that she was a Munitions Worker and that Alfred was a Ferrier Sgt. living at AVC Barracks Woolwich.

John Snr. and sons John, Henry and Charles, all worked in the Arsenal. Charles Herbert Card left England and went to Australia in 1923 where he also joined the Army.

Munitions Workers at the Arsenal . Photo taken before 1920. 'A'. being my great-great grandmother Frances Mary Card and 'B'. Jessie Goodrich, Frances's cousin. (Click on the Photo for a much bigger view)

Taken at 84 Kirkham St. taken in 1918. Eliza Janet, daughter. Anne in uniform, her 2 daughters (Joan and Mary) and the young Charles Herbert Card, in a scouts uniform.

John Card Snr. and Sgt. Henry Card
I would really love to hear from anyone that has any information on the Card Family.
Christine

Can any one help with any further information on any of the above?
If so, email me.
---
The Austin Family

(Click on Photo for very large view)
This is a picture of my grandmother and granddad. ( with the X's) Probably it was celebrating the Coronation of Queen Elizabeth II in 1953.

They lived in Ancona Rd; Plumstead (Orchard Rd). Their house was an old large Victorian house. It covered three floors including a cellar. During the war the family would use the cellar to shelter from the air raids as you could climb under the house from the cellar and climb back up to the front room.
I'm looking for old photo's of Plumstead High Street, circa 1900 era, as my Great grand parents had a shop along there, but no one has any photo's of it or this part of the High Street. It was a sweet shop and their surname was Austin.

Helen
Can anyone help here?
Can any one help with any further information on any of the above?
If so, email me.
---
The Jeal Family

Louise Vernon, who is currently researching her family's early historical connections to Plumstead, sent me this lovely photograph which has the following information written on the back of it, which says:
My information regarding the Jeal's is a little confusing but here is the text that was written on the back of the photo by my 2nd great grandaunt Elizabeth Annie Heasman (Lizzy)

"This photo is my mother's aunt and uncle, Mr. and Mrs. Jeal. They lived in a cottage by the "Brewery Tap" in Lakedale Road, Plumstead. I used to go and see them and meet my mother there when I came from school and we would walk home together. My mother died suddenly of a heart attack when I was 13. I was in the Ex 7th and left school then. My sisters, Dolly then 17 and Kate 15 were mother's helps."

I really could do with the first names of Mr. and Mrs. Jeal so that I can begin to clarify exactly what relationship they were to Lizzie. It's possible their names were James and Rebecca but I cannot find them on the 1891 census. Until I can verify their names I cannot go any further.
Update: Louise Vernon wrote: "I've had the Death Certificates of the people I think were in the photo. The address given is Orchard Road and the death information was a William G. Jeal, he also lived on Orchard Road.
I wonder whether it is their son William that Lizzy remembers visiting?"
Can any one shed more light on this couple?
If so, email me.
---
The Headd(Head) Family
John 5 Headd 1771
HEAD Family History © Pat Lunnon and Mark Head, 1999
web pages © Jerry England, 1999

John HEADD was born in Millbrook, Hampshire BEF. 25 DEC 1771; baptized in Romsey, Hampshire, 25 DEC 1771; married Sophia SMITH in St. Nicolas, Plumstead, Kent, 14 MAY 1802; died 3 JUN 1855 in Plumstead, Kent.
Notes for Sophia Smith: b about 1770/75; died 15 JAN 1846 at Plumstead Common.

The children of John HEADD and Sophia (SMITH) Head are:

i. Mari Ann HEAD was born BEF. 10 JUN 1810; baptized in St Nicolas, Plumstead, Kent, 10 JUN 1810.

ii. William HEAD was born 1 MAY 1803; baptized in St Mary Magdalene, Woolwich, Kent, 22 MAY 1803.

iii. Eliza Ann HEAD was born 20 OCT 1812; baptized in St Nicolas, Plumstead, Kent, 15 NOV 1812.

iv. Sarah HEAD was born 11 DEC 1814; baptized in St Nicolas, Plumstead, Kent, 24 AUG 1817; married Thomas BUTCHER in St. Nicolas, Plumstead, Kent, 12 JAN 1836.
Children:
Thomas Butcher about 1837 Plumstead, Kent, England
John Butcher about 1841 Plumstead, Kent, England
Alfred Butcher about 1843 Woolwich, Kent, England
Henery Butcher about 1846 Plumstead, Kent, England



+v. Stephen 6 Head was born in Plumstead, Kent 29 JUL 1817; baptized in St. Nicolas, Plumstead, Kent, 24 AUG 1817; married Margaret WILKIE in St. Nicolas, Plumstead, Kent, 9 DEC 1844; died 28 DEC 1881 in Plumstead, Kent, at 64 years of age.

Notes:

John Headd joined the 1st Regiment Royal Artillery and first appears on muster and pay rolls in Aug. 1795 when it was noted that he had served 61 days already. The Battalion mustered at Brighton, Sussex.

In Sep. 1795 the Battalion moved to Portsmouth and on the 13th Nov Capt. John Roger's Company embarked on HMS's Arethusa and Concord for passage to the West Indies. John appears to have been on board the Concord as he did not appear on the muster or payroll of the Arethusa. John's pay as a gunner was ninepence ha'penny (equiv. 4p today, or 2.5 cents).

Capt. Roger's Company landed at Barbados on 5th Feb. 1796 and on 1st April the Company embarked on the Troop ships John, Jane and Arethusa for San Domingo, Haiti. A muster was held on 7th April. The next muster took place at St. Nicolas Mole, San Domingo, on 8th May. The muster Roll taken at the end of June showed that 28 deaths had occurred in the company that month, including the Captain who died on 30th June.

Sometime during July/August 1786 the main body of the Company moved to Port-au-Prince. However, John Head remained at the command at St. Nicolas Mole where he was stationed until he returned to England.

By March 1797 the Company had been reduced by deaths to under half it's former strength. A new Captain, Capt. Wiltshire Wilson, was appointed and the Company was brought up to strength in May by replacements from other regiments.

In July all NCOs and gunners were awarded Five shillings and Threepence (about 26 pence or about 18 cents) shoe money.

Capt. Wilson was transferred in September and Capt. G. Koehler was appointed to the Company.

John Head had a pay rise of two pence (1/2p or 1/4 cent) per day in Jan. 1798, but this was not in fact paid to him until September.

John Head was part of a detachment that returned to England aboard the Iris which left San Domingo in June 1798.

It was not stated in the muster rolls just whereabouts in England John Head was stationed, but at some time before 1802 he went to the Royal Artillery Barracks at Woolwich, Kent.

John was discharged from the First Battalion, the Royal Artillery on 31st March 1810, having served a total of 16 years 45 days, which includes his service in the West Indies prior to him enlisting with the First Battalion. His discharge was due to rheumatism. His description on the discharge papers is given as: Aged 35 and 3/4; height 5' 8''; brown hair, gray eyes, fair complexion. He was granted a pension of One shilling (5p or 3 cents) a day from 1st April 1810. (he was latterly earning something above 11.5 pence a day- so his pension was near his salary in value).

John Headd's occupation is a gardener at the time his son is married in 1844.
On the 1851 census John is living with son-in-law Thomas Butcher in Plumstead.
© Jerry England 1989 - 2003
Stephen HEAD 1821
HEAD Family History © Pat Lunnon, Mark Head, and Jerry England, 1999
web pages © Jerry England, 1999 - 2005
Stephen 6 Head was born in Plumstead, Kent 29 JUL 1817; baptized in St. Nicolas, Plumstead, Kent, 24 AUG 1817. He married Margaret WILKIE in St. Nicolas, Plumstead, Kent, 9 DEC 1844; died 28 DEC 1881 in Plumstead, Kent, at 64 years of age.
The children of Stephen Head and Margaret (Wilkie) Head are:
i. Mary HEAD was born 29 NOV 1845; baptized in St Mary Magdalene, Woolwich, Kent, 25 DEC 1845. I believe she died before 1851 because she is not on that census.
ii. Margaret HEAD was born 14 APR 1848; baptized in St. Nicolas, Plumstead, Kent, 1 OCT 1854; married George MORRIS in St. Margaret's, Plumstead, 31 DEC 1871. [George Morris b. about 1845 at Kingston on Thames, Surrey, England.]

(left to right) Margaret Head nee Wilkie, Maria Cummin nee Head, Thomas Cummin Jr, and Winnie Cummin about 1905.
iii. Maria HEAD was born 29 MAY 1850; baptized in St. Nicolas, Plumstead, Kent, 1 OCT 1854; m. Thomas CUMMIN 1868 in Woolwich, Kent. [Thomas Cummin b. about 1849 in Chatham (aka Medway), Kent, England; d. 1886 in Woolwich; occupation carpenter; s/o Thos Cummins b about 1817 Stockton, Durham and Agnes b about 1824]



Maria Cummin nee HEAD. Thanks to Ron Foster for the photo.
Children of Thomas and Maria Cummin:
Margaret Cummin about 1870
Thomas Cummin about 1872
Roseina M. Cummin about 1875
Stephen G. Cummin about 1877
Amelia W. Cummin about 1879
Nellie E Cummin about 1882 Plumstead
Harold W Cummin about 1885 Plumstead

+iv. Stephen John 7 HEAD [Jerry's Line] was born 16 APR 1853; baptized in St. Nicolas, Plumstead, Kent, 1 OCT 1854; married Susannah AVERY in St. Mary's, Lewisham, Kent, 4 MAY 1876.

Stephen John Head and Susannah Head nee Avery in Plumstead about 1910.
Children:
Ethel M. Head (Dressmaker) b. 1877 Plumstead
Florence S. Head b. 1878 Plumstead; m: Henry Clements WALKEM or WALKEN 1908 Woolwich
Constance M.A. Head about 1880 Plumstead; m. HARRIS, Unknown about 1902
Lillian M. Head b. 1882 Plumstead; m. Frederick CRAWFORD 1908 Woolwich
Annie Leighton Head b. 1884 Plumstead
Edith M. Head b. 1887 Plumstead; m. William H. DUMBRILL about 1908
Stephen W Head about 1889 Plumstead emigrated to USA about 1910
Herbert H Head about 1893 Plumstead emigrated to USA before 1913


v. Matthew Charles 7 HEAD [Mark Head's Line] was born 7 FEB 1856; baptized in St. Nicolas, Plumstead, Kent, 23 MAR 1856; married Esther GILBERT in St. James, Plumstead, 26 DEC 1881.

Children:
Esther Head about 1882 Plumstead
Matthew C Head about 1883 Woolwich
Anie A Head about 1887 Plumstead
George Head about 1888 Plumstead
Thomas W Head about 1892 Plumstead
John Head about 1894 Plumstead
Elizabeth Head about 1895 Plumstead
Ethel M Head about 1896 Plumstead
James F Head about 1898 Plumstead
Walter E Head about 1899 Plumstead


vi. Fanny Sophia HEAD was born 15 JUN 1856; baptized in St. Nicolas, Plumstead, Kent, 4 JUL 1858; m. Alexander George POPE 22 JUN 1887. [Alexander G Pope b. about 1865 in Plumstead, Kent, England.]
Children:
Alexandrina Pope about 1889 Plumstead
Mabel Pope about 1892 Plumstead
Morris Pope about 1896 Plumstead


vii. Emma HEAD was born 21 NOV 1860; baptized in St. Nicolas, Plumstead, Kent, 13 JAN 1861; m. George William BROWN in St. Margaret's, Plumstead, Kent 26 MAR 1883. [George W Brown b. about 1861 in Plumstead, Kent, England.]
Children:
George S Brown about 1884
William B Brown about 1887
Frank E Brown about 1889
Emma F Brown about 1891
Edith M Brown about 1893
Arthur H Brown about 1895
Florence A Brown about 1897


viii. Thomas HEAD was born 23 APR 1863; baptized in St. Margaret's, Plumstead, 17 MAY 1863, m. Fanny ASHDOWN 1885 in Woolwich, Kent. [b. about 1863 in Charlton, Kent, England.]
Children:
Thomas E Head about 1887
Nellie M Head about 1889
Albert W Head about 1891
Arthur S Head about 1894


ix. Ann HEAD was born 6 DEC 1866; baptized in St. Margaret's, Plumstead, 3 MAR 1867; m. Walter Edward BARLING in St. Margaret's, Plumstead 23 FEB 1889. [Walter Barling b. about 1865 in Chatham, Kent, England.]
Children:

Walter Barling about 1890 Plumstead


x. Alice HEAD was born in Landport, Hampshire, England 18 NOV 1869 at 98 Surrey Street, Landport , Portsea Island (say Portsmouth), Hampshire, England; baptized in St. Margaret's, Plumstead, 31 MAR 1872; m. William Henry FRENCH in Holy Trinity Church, Woolwich 25 DEC 1898. [William H French b. about 1874 in Woolwich, Kent, England.]
Children:
Alice E E French about 1900 Plumstead


Information collected and © 1999 by Pat Lunnon as part of her research into the Head family Tree.

Notes for Stephen Head:

Stephen married Margaret Wilkie, the daughter of Thomas Wilkie, a Warrant Officer (probably with the Royal Artillery or in the Royal Arsenal in Woolwich). Magaret was only 18 whilst Stephen was already 27. They Married, like their parents before, at St. Nicolas, Plumstead, in the presence of Eliza Bates and William Manning. Both Stephen and Margaret made their marks, and so were probably illiterate.
The vicar was Revd. H. J. Shackleton.

By the time their third daughter, Maria, was born, Stephen and Margaret Head were living in 3, Sprays Buildings, Plumstead, according to the 1851 census. Their eldest daughter, Mary, does not appear and presumably died, as she would have been only 5 years old at the census date. (30th March, 1851)

Stephen is recorded as being a Boiler Maker.

Their first son, Stephen John, was born on 16th April 1853. it was only on 1st Oct. 1854 that all three remaining children were baptised; margaret was 6 and Maria 4. Stephen's occupation was shown on the baptism record as being 'labourer' although this description could mean many things.

When Matthew Charles was baptised on 23rd March 1856 Stephen was back to being identified as a 'Boiler Maker'.

St. Nicolas:

see also notes under John Head.

Up until 1859 St. Nicolas Church was the Parish church of Plumstead. On 25th April 1859 the newly constructed St. Margaret's Church was consecrated and became joint parish church as baptisms and marriages took place in both buildings until Nov. 1860. St. Margaret's officially took over as Parish church in1864, with St. Margaret's as a district church only.

By 1878 Stephen and Margaret had moved to 20, Station Road. In May 1878 Stephen made his Will.

By 31st. Mar 1881 Stephen and Margaret had moved again, to 19 Maxey Road, Plumstead. The census of that date indicates that their children living with them were thus:

Matthew Charles, 26 unmarried Foundry Labourer
Fanny 23 unmarried Formerly cook
Thomas 17 unmarried Foundry Labourer
Ann 14 unmarried
Alice 11 unmarried scholar

Stephen was described as a Fitters Labourer and Margaret as Wife only (no trade)

Staying in the house also were unrelated lodgers;
David Stevenson 26 Iron Moulder Born Scotland
Louisa Stevenson 27 Needlewoman Born Woolwich, Kent.

Stephen died on 28th Dec. 1881, 2 days after the marriage of his son, Matthew Charles Head (Mark's g.g.f) to Esther Gilbert. His funeral took place in Plumstead Cemetery on 7th Jan 1882. Stephen's Will was proved in London on 20th Feb 1882, leaving all his possessions to Margaret.

Margaret continued for many years, seeing many children married and many grandchildren born.

She died on 5th Sep 1910 in the Infirmary, aged 84. Her funeral took place on 10 Sep 1910 in Plumstead Churchyard. Mourners at her funeral were her eldest son and his wife, Stephen John Head and Suzannah Avery Head, her daughters and sons-in-law Margaret and George Morris, Fanny Pope, Emma and George Brown, Annie and Walter Barling and Alice and Will French. Latterly, Margaret had been living at 32 Ennis Road, Plumstead, until her deterioration and committal to the Infirmary.

The Kentish Independent Newspaper published an account of the funeral, and was more like an obituary. Margaret was greatly loved and respected in the locality. The account is as follows:

The funeral took place on September 10th at Plumstead Churchyard, of Mrs Margaret Head, widow of the late Mr. Stephen Head, (at one time a foreman at Woolwich Dockyard) who died aged 84 years. The deceased, who was a well known resident of Plumstead, had been ailing for some considerable time. She was born at the Fort of Signal Hill, Newfoundland, in 1826, her father being the Armourer-Sergeant at the Fort. She is believed to be the first English child at the Fort, and almost to the last was happy telling anecdotes of what took place at the Fort. She was taken, as a child, to England and returned to Newfoundland in the old sailing ship days (there were no steamers in those times) when ships often had to be battened down because of storms. Her husband (who pre-deceased her in 1881) was a man well-known and respected in his time: he was born on Plumstead common in the old house that adjoins St. Margaret's Church, he and his father before him being gardeners to the owners of Vicarage Park, which , at one time, extended for some distance round about.

Mourners at the funeral on Saturday were : Mr. Stephen (John) Head (eldest son) and Mrs. (Susannah) Head, Mrs. Margaret Morris (eldest daughter) and Mr. Morris, Mrs. Fanny Pope (daughter), Mrs. Emma Brown (daughter) and Mr. Brown, Mrs. Annie Barling (daughter) and Mr. Barling, Mrs. Alice French (daughter) and Mr. French.

The wreaths were numerous and beautiful, among them being tributes from:-" Stephen and family", " Margaret and George", " Fanny and children", "Annie and Walter and son", "Matthew and Ester", "Alice and Will", "Eva and Dot".

The funeral was conducted by Messrs. Messent & Sons.
Rev. 6-26-05
© Jerry England 1989 - 2005
Stephen John Head 1853
© Jerry England 1999

Stephen John 7 HEAD was born 16 APR 1853 in Plumstead, Kent, England. He married Susannah AVERY at St. Mary's church in the parish of Lewisham, Kent, England, 4 May 1876.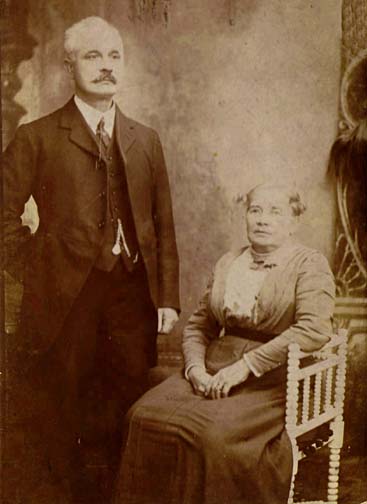 Stephen John HEAD and Susannah (AVERY) HEAD
Stephen John HEAD retired from the RG&CF (Woolwich Arsenal) as its Assist. Foreman of the RCD in NOV 1917 after 42 years of service.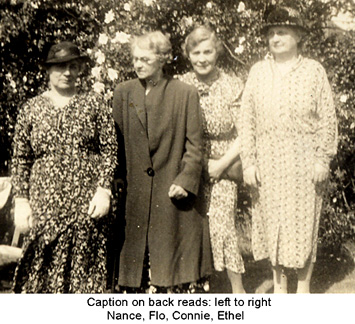 The children of Stephen John Head and Susannah (Avery) Head are:

i. Ethel Mary HEAD was born in Woolwich, England Mar 1877. She was a dress maker.
ii. Florence Susannah HEAD was born in Woolwich, England Jun 1878; m. Henry Clements WALKEM(N) - Qrt Jun 1908 - District: Woolwich - Vol: 1d - Pg: 2013. Henry was born about 1882 in Plumstead, London, England.
iii. Constance May A. "Connie" HEAD was born in Woolwich, England Sep 1880; m. HARRIS, Unknown about 1902.

iv. Lilian Mabel HEAD was born in Plumstead, England Sep 1882; m. Frederick Crawford - Qrt Sep 1908 - District: Woolwich - Vol: 1d - Pg: 2272. Frederick was born about 1887 in Chatham, Kent, England.

v. Annie Leighton "Nance" HEAD was born in Plumstead, England Dec 1884.

vi. Edith Maria HEAD was born in Plumstead, England Jun 1887; m. William H Dumbrill 1911.

Retirement watch presented to my great grandfather in 1917

vii. Stephen William 8 HEAD was born 20 MAY 1889, in Plumstead; m. Annie McNEIL 1913 in Detroit, MI, USA
viii. Herbert Henry HEAD was born 11 APR 1893, in Plumstead, Kent, England. He married Amy Daisy GLIDE in 1915. They had 3 children Harold Fredrick, John Henry and Wilfred James and 12 grandchildren.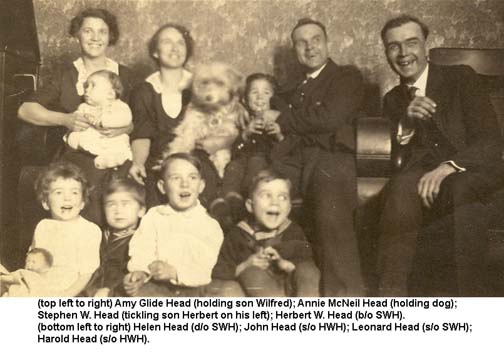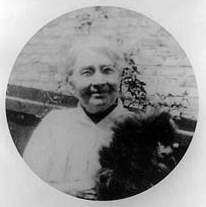 Susannah AVERY Head
d/o William AVERY (b. about 1818 Hastings, Sussex, England)
Notes:

Family legend has it that Stephen John HEAD died about 1918 as a result of injuries from a WWI German Zeppelin raid over Plumstead. He was a Civil Defence Warden and got everyone in a shelter except himself. He survived the air raid, but died sometime later from his injuries.

1881 Census living at 39 Walmer Road, Plumstead, England
1891 Census living at 116 Orchard Road, Plumstead, England
1901 Census living at 25417 Manthorpe Road, Plumstead, England
1920 Ship Manifest living at 36 Admaston Road, Plumstead, England

At time of their marriage both bride and groom were residents at Exchequer Place, Lewisham.
Stephen's death certificate information: died 14 OCT 1918 at 36 Admaston R; Stephen John Head; 65years; assistant foreman RCD Arsenal; cause: mitral incompetence,anasarca 6 months 'no pm'; informant: F Crawford, son-in-law in attendance of 37 Shooter's Hill Gardens, Eltham.
Susannah's death certificate reveals that she died 5 MAR 1921 at 8 Porthall Place, Preston, Brighton Susannah Head 70 years, widow of Stephen John Head,foreman coppersmith. Cause of death: cerebral haemorrhage, informant: Ethel M Head, daughter present at the death and of the same address.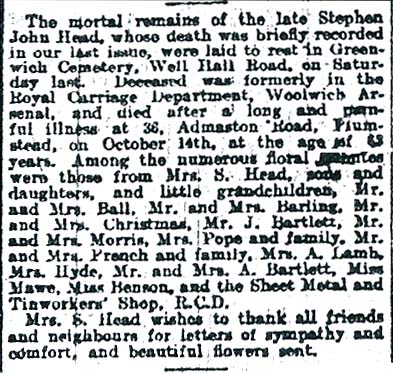 obituary for Stephen John Head
© Jerry England 1989 - 2005
Stephen William 8 Head 1889
© Jerry England 1999

Stephen William HEAD was born in Plumstead, Kent, England 20 MAY 1889; married Annie Margaret "Anna" MC NEIL in Detroit, Wayne Co., MI, March 24, 1913; died October 25, 1942 in Santa Monica, Los Angeles Co., CA, at 53 years of age.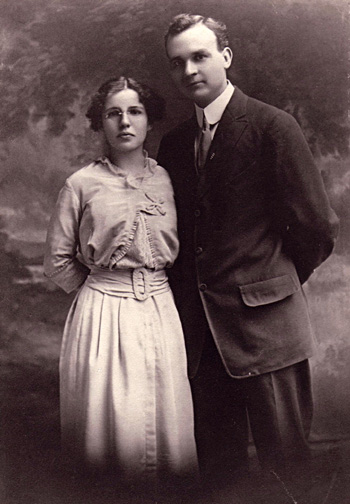 Stephen William Head and Annie (McNeil) Head about 1914


The children of Stephen William Head and Annie (McNeil) Head are: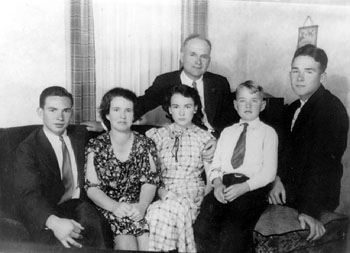 (left to right) Leonard, Anna, Helen, Stephen, Robert, and Herbert Head
i. Leonard John HEAD was born 22 JUN 1914 in Detroit, Wayne Co., MI; he died 31 DEC 1998 in Thousand Oaks, CA at age 84.

ii. Herbert William HEAD was born 5 MAR 1917 in Detroit, Wayne Co., MI. He married Ann Lixvar. He died 15 MAY 1972.

iii. Helen Avery HEAD was born 30 SEP 1918 in Detroit, Wayne Co., MI. She married Fred Arthur MORGAN, Helen died 6 OCT 1970 in Evanston, WY.

iv. Robert J. HEAD was born 3 JUN 1925; d. 20 NOV 1999 in Porterville, CA.

Notes:

Annie McNeil was born in Detroit, Wayne Co., MI November 8, 1892. She was the daughter of Allan MC NEIL and Adaline PROCTOR. Annie died December 31, 1964 in Santa Monica, Los Angeles Co., Calif., at 72 years of age.
Stephen emigrated to the US in 1910. In 1920 he went back to England to visit his mother. (Source: ships manifest "Imperator" from Southampton, 11 JUL 1920).
On 1930 census living at 13117 Cloverlawn, Detroit, MI.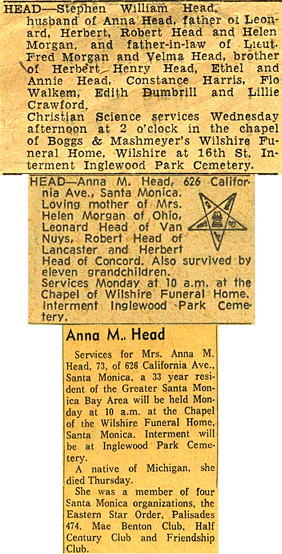 obituary for Stephen Wm and Anna Head
© Jerry England 1989 - 2005
---
WARWOOD & WORWOOD in Kent & London & all HISEMAN & ISEMAN in Kent and anywhere else
I am researching the families that descended from Richard ISEMONGER (born 1766 Caterham Surrey) and his wife Sarah FULBROOK) who moved to Kent with their children in about 1815.
There are a number of descendents of this couple, who changed their name first to ISEMAN and then to HISEMAN when they moved to Kent, that eventually moved to PLUMSTEAD and had their children there. All HISEMAN in Kent and the areas in and around Plumstead are descendents of Richard ISEMONGER (Hiseman) and Sarah FULBROOK). Indeed, all wherever now in the world are also!
I am particularly interested in finding any descendents of these HISEMAN families in Plumstead and also want to learn more about the areas of PLUMSTEAD that they lived and died in. I would love to gather any photos of the places mentioned below to go with the One Name Study that I am preparing on the HISEMAN families.
The HISEMAN Families of PLUMSTEAD are:
1. Edward HISEMAN (ch 19 Oct 1823 Chelsfield) s/o Henry ISEMONGER/HISEMAN b. 24 Feb 1801 Coulsdon Surrey (s/o Richard Isemonger/Hiseman & Sarah Fulbrook) and Lydia WHITEHEAD. Edward and his wife Mary (Unknown) lived at first in Crockenhill but had moved to PLUMSTEAD by 1861 and in the Census of that year were residing at 12 Elm Grove Slades Plumstead. In 1871: 16 Hopgood Cottages Plumstead. In 1881 13 Slade Cottage Plumstead. 1891: 1 Prospect House Kings Highway Plumstead 1901 Prospect House Plumstead Common Children of Edward HISEMAN and Mary born in Plumstead were:
1. Sarah HISEMAN b. 1859 (ch 18 Dec 1859 Crockenhill) Sarah married Henry PHILLIPS in 1876 and had children: Annie Phillips 1880, Alfred Phillips 1883, Willie Phillips 1885, Daisy Phillips 1887, Lily Phillips 1889, Thomas Phillips 1891 & Walter Phillips 1900 all born Plumstead. In 1881 residing 12 Slade Cottage Plumstead, 1891 & 1901 residing 30 Pendrell Street Plumstead Henry PHILLIPS was occupation: Sawyer.
2. Frank HISEMAN b. 1862 Plumstead. Frank married Alice HICKLIN in 1890. Alice was born 1862 in Plumstead (d/o Francis HICKLIN & his wife Harriet). Frank & Alice had (before 1901) children: Alice Minnie Hiseman 1892, Elsie Hiseman 1894, Frank Hiseman 1900 all born Plumstead. In 1901 Frank & Alice resided 55 Sladedale Road Plumstead. Alice\u2019s family had lived in 1 Park Cottages Horsleys Park Plumstead 1871) and 7 Parkdale Place Plumstead (1881) and 4 Alcester Terrace Park Dale Road Plumstead. Frank HISEMAN was a street mason laying curb stones.
3. Alfred Roderick HISEMAN b 1866 Plumstead d. 1902. Alfred married Annie Beatrice HEAD/HARDEN (b. 1868 Dartford) in 1891. Annie Beatrice was the daughter of Annie HEAD Annie Beatrice was recorded in the census as Annie Beatrice HARDEN daughter of Robert Benjamin HARDEN however Robert HARDEN and Annie HEAD did not marry till 1872. Alfred HISEMAN and Annie Beatrice HEAD/HARDEN had children: Robert E Hiseman 1892, Lucy Annie Hiseman 1894, & Gwendoline Beatrice Hiseman 1897 d. 1898 all Plumstead. By 1901 Alfred was the licensed victualler of the Red Lion in Swanley Street Swanley.
4. Leonard HISEMAN b. 1868 Plumstead. Leonard married Louisa Ann EVERSON (b. 1867) in 1894. She was the d/o Edward EVERSON and his wife Louisa. Leonard HISEMAN and Louisa Ann EVERSON had before 1901 Irene Louise HISEMAN b. 1895 Plumstead. In 1901 Leonard was employed as a Cartridge Machinist in Arsenal and he resided 72 Lakedale Road Plumstead
5. Amelia Abigail HISEMAN b. 1870 Plumstead. Abigail married Arthur HIGGS in 1892. Children of Abigail and Arthur: Arthur Edward HIGGS 1892, Leander Cecil HIGGS 1896, Harold Clifford HIGGS 1899 all born Plumstead. In 1901 Abigail and Arthur resided Prospect House Plumstead Common. Arthur was a Metal Turner at Arsenal.
Another child of Edward HISEMAN was Lydia HISEMAN (born 1852 in Crockenhill). Lydia married Samuel Simmons HOPGOOD in 1873. Samuel HOPGOOD was born 1852 in Plumstead s/o Robert (b. 1825 Plumstead) & Eliza Ann HOPGOOD. They had 5 children in Battersea.
2. Henry Cornwall HISEMAN (bapt 31 Jan 1843 Eynsford) s/o Henry HISEMAN b. 1801 (s/o Richard) and Elizabeth BACON (2nd wife of Henry). Henry Cornwall HISEMAN married Mary Ann SPICE in 1871. Henry HISEMAN was a Watchman at Royal Arsenal in 1871. Mary Ann\u2019s father John SPICE b. Broughton Kent was in 1881 an Iron Worker in Royal Arsenal. In 1871 & 1881 Henry HISEMAN resided 6 Park Road West, Plumstead. In 1891 resided 12 Park Street Plumstead. In 1901 resided 12 Waverley Road Plumstead. Henry C and Mary Ann had children:
1. Henry George HISEMAN 1872 Plumstead. Henry married Laura Annie M CORDOCK in 1893. In 1891 Henry G was a Postman. In 1901 a General Labourer and resided 23a Waverley Road Plumstead Henry & Laura had child William Leonard HISEMAN 1898.
2. William John HISEMAN 1874 Plumstead William married Eliza Jane LUNN (in Scotland).
3. Mary Ann Winifred HISEMAN 1877 Plumstead. Mary Ann married Walter BOWDEN in 1893. In 1901 Mary Ann and Walter were residing 18 Old Mill Road Plumstead They had children: Gladys Constance Bowden 1895, Eva Dorcas Bowden 1899, Winifred Rose Bowden 1905, Kenneth C Bowden 1911. All born Plumstead. Walter BOWDEN was Inspector of Telegraph Messages in 1901.
4. Herbert Cornwall HISEMAN 1879 Plumstead.
5. Rosabulia Beatrice B HISEMAN 1887 Plumstead
Regards,
Lis Warwood
Researching: All WARWOOD & WORWOOD in Kent & London & all HISEMAN & ISEMAN in Kent and anywhere else.
---
The Brind Family
I'm trying to find any information on the history of my family (Brinds).
They lived in the Plumstead area from around 1840 until at least the 1920s. My great-grandfather was Walter John Brind, who was born around 1889. He worked as a labourer at the Royal Arsenal before joining the army in 1907.
His father was Richard William Brind, who worked in the labs at the Arsenal. WJ Brinds mother was Mary Ann Brind (nee Parsons) and his siblings were Richard William Jnr, Herbert Edmund and Annie Louise.
From 1891-1901 they lived at 58 Elm Street, Plumstead, Kent.
In 1920 I believe Mary Ann was living in Richmond Road/Place in Plumstead. Richard William Snrs parents were Richard Brind and Eleanor Brind (nee Collings). His siblings were Herbert, Walter, Edgar, Eleanor, Ernest, Edmund, Ada and Amy.
Thanks in advance.
Carl Brind <carl_b_73@yahoo.com>
---
Grace Smith, Harry Smith and family
Georgina Briody asks the following;

I wonder if you can help my cousin and myself?

My Grandmother, Grace M. Smith, was born in Woolwich and we are led to believe that her father, Harry Smith, a music teacher, was head organist at Woolwich Barracks Church, which we believe to be St. George's. We know this was bombed during WWII and destroyed along with it all records.

Do you know of any local organisations we can contact who might be able to confirm these details.

The story goes that he died early and Grace was left with Kate, her mother, to fend for herself. Kate was in service and when she was working Grace would hide on the Woolwich Ferry from the men and ride all day until Kate had finished work.

If you could help in any way, we would be very grateful.
If you have any information that might help Georgina Briody please email me.
---
Hiseman Family
Rhett Hiseman writes;
Greetings from South Africa !
There are only two Hiseman`s in South Africa, one is my mom Dorothy Elisabeth Hiseman (nee Brown ) originally from Shropshire, England. She is 86 years of age and is living in Cape Town. Then there is myself: Rhett Edmund Hiseman, born on the 22 July 1953 in Cape Town and now 54 years old living in Riversdale South Africa.
My dad was Roderick Edmund Hiseman, born 20 February 1929, died November 1992. I found some of his old documents which show during WWII he was in the Royal Air Force. The address on his card was 789 Rochester Way, Sidcup, Kent. I know that he was born in Ramsgate, Kent, where his parents had a hotel. He had five brothers of which only one still survives. His name is Michael Hiseman and he lives near Sherwood Forest. The other side of the Hiseman family, on my fathers side, was Fortune . Apparently some of the family tree call themselves Hiseman-Fortune. I donít know too much about the Hiseman side of my family, although I have contact with a cousin, Malcolm Hiseman (son of Michael Hiseman).
Derek Hiseman adds;
My great-great grandfather Henry Hiseman was married to Elizabeth Hiseman late Bacon formerly Cornwell. They had a son Henry Cornwell Hiseman, my great grandfather, born on1/12/1842 at Crockenhill in the Parish of Eynesford, Kent.He became at one time a Watchman on a powder magazine ship moored in the River Thames by the Woolwich Arsenal.
This is a photo of Great Uncle Ned, but I don`t know where he fits in the Hiseman tree, the obituary of my Great-grandfather and a cutting from a newspaper written by, I believe, my grandfathers brother. My grandfather was born on 1/10/1878 at 6 Park Road Plumstead, my father was born 1/8/1904 and I followed on 13/9/1934.
Newspaper article:

PLUMSTEAD IN DAYS GONE BY.

Dear Sir.

For the information of the younger fraternity living in Plumstead, I will now describe the place as it was in the early (eighteen) seventies.

We will start from lower Durham Road. On the right of this road, coming up, was a beautiful park called Tongues Field running as far as Plumstead Common. In front of Waverley Road, running down to the bottom of Griffin Road, where there were only four houses at that time, was nothing but market fields and meadows. Now carry on a bit further, where Parkdale Road and Chesnut Rise are, was a park called Moraley Park. In line with the Slade Hollow there was an orchard with a cottage standing in the centre called Sweet Briar Cottage where a man by the name of Weeks lives who was noted for his display of grapes.

Upon the other side at the top of Lakedale Road was an old cottage. It was a familiar sight to see the owner, Mr Turner, going to and from the stream in the Hollow carrying water up this steep incline in pails attached to a yoke on his shoulders.

I thought the foregoing would really enlighten some of our readers of the "Local Rag" as to what Plumstead looked like in days gone by. - Yours faithfully.

Henry G Hiseman

179a Upper Wickham Lane, Welling.

Also this further info.

'I am Maria Lewis (nee Hiseman) sister of Malcolm Hiseman and cousin of Rhett Hiseman. Our Father is Michael Hiseman born 1934 who had 4 brothers (Roderick, Dennis, Peter, Alan and my dad). Their father (my granddad) was Robert Edward Hiseman born 1891 who married Ellen Fortune 1919.

Unfortunately I have not had the time to go back further with the Hiseman side. I have gone back two more generations on the Fortune side.

My Dad was born in Birchington, Kent and his family owned and ran several pubs in the Kent area.
If you have anything further on Hiseman's please email me
---
Kenneth Bielby Himsworth
Elizabeth Kaegi is researching the "life and times" of family member Kenneth Bielby Himsworth (1919-1978) .
Ken grew up on Wernbrook Street, Plumstead and attended Plum Lane School in the period 1924 - 1934?.
His father William Bielby Himsworth was an Instructor at the Ordnance College.
Ken lived with his family at 64 Wernbrook Street from the time of his birth (1919) until he went into the Army in 1939.
He attended Plum Lane School in the period 1924-1934?
After his school days he worked in an office at the Royal Arsenal Co-operative Society.
When war broke he went into the Army (1939) and then overseas to India, Burma and Siam. eventually serving as a Captain for the Queens Royal Regiment.
He also served as the Regimental Adjutant for some time.
Before going into the Army he worked as a window dresser and cashier. He married Freda in 1942 in Guilford and ended up living in that area and then in Cambridgeshire for the rest of his life. He was a Divisional Officer at the National Fire Service College at Moreton in Marsh for many years. He died unexpectedly in 1978 in Cambridge.
He was always very energetic and known to be full of fun.

2020 update: Julie Talbot (nee Himsworth) writes she is the daughter of Micheal Himsworth who is the son of Kenneth and Freda Himsworth.

Any information please email me.
---
Sam Dunham, Wickhan Lane school teacher
Sally St Clair is asking if anyone has any memories and/or possibly any school photo(s) of her father.
"My father was Sam Dunham, and was a teacher at Wickham Lane School. (during and around the 1940's through 1950's)
He was also a teacher at Oakmere School during the 1960's. Oakmere School was formally the Wickham Lane Secondary School for boys.
I would be very grateful for any memories of my father, whether they are good or bad recollections (!)"
If you can offer any recollections, however small, please email me.